Where it all started!
Let's go back to the year 2009. It's the year Kickstarter was founded. And so-not with the vision of creating multi-million projects and high tech gadgets. But It was based on the belief, as stated in the Kickstarter's first blog, that Audiences WANT to pay creators, provided,
It's easy to do
The backer just has to pay a reasonable amount.
The money directly benefits the creators.
So, the thing that was in the minds of the Creators of Kickstarter was the artists, musical shows and other projects which may not be big but are creative, have a personal touch and are close to the creator's heart. An excerpt from the Kickstarter's early blog is given below.
The Beatles were turned down by nearly every record label. George Lucas couldn't find a movie studio that would make Star Wars. Bob Woodward and Carl Bernstein of the Washington Post were two of the only reporters assigned to cover Watergate. John Kennedy Toole went to his grave with A Confederacy of Dunces still unpublished.
Anecdotes like these have become folklore, as have their lessons: good ideas go unrecognized, experts get it wrong, perseverance prevails. All true.
The Basic Idea
In short, the basic idea was to support and raise money for the projects that the conventional funding and businesses do not support. The goal was to get an idea directly before the people who are the audience or the consumers of the product. And when all that people have to contribute what they can easily afford, this idea was already on its way to success. And a quick look at the history says that this idea is definitely a blockbuster success. Till now Kickstarter has raised $3,854,384,416 from 149,225 Kickstarter projects.
But as people realized the power of crowdfunding, more and more people and even celebrities like Rob Thomas and John Lee Dumas, and big production houses like Academy Games and First Build turned to crowdfunding. More and more marketing agencies flourished providing services around platforms like Kickstarter and Indiegogo. Truth be told, now it's almost impossible to bring a small cool project to people's attention without spending big bucks on marketing. People even hire professionals to create campaign pages and videos.
Think Small
So fundamentally, today's Kickstarter scenario defeats the original idea to support projects that were original, creative and not necessarily big and highly marketed. And here comes into view the Quickstarter – a Back to Basics from Kickstarter.
It all started when Oscar Lhermitte started a few small projects just for the sake of simplicity, beauty, and fun. And they turned out really well and Kickstarter really liked the idea and Quickstarter was born.
Quickstarter Rules
The rules for the Quickstarter projects are simple.
Rule #1 Plan it in three months or less.
Rule #2 Keep the campaign under 20 days.
Rule #3 The funding goal should be under $1,000.
Rule #4 Offer rewards under $50.
Rule #5 Shoot the video in one day.
Rule #6 No PR or media outreach (unless contacted).
Rule #7 No paid ads on social media.
Rule #8 No stretch goals.
Rule #9 Include "Quickstarter" in your campaign name.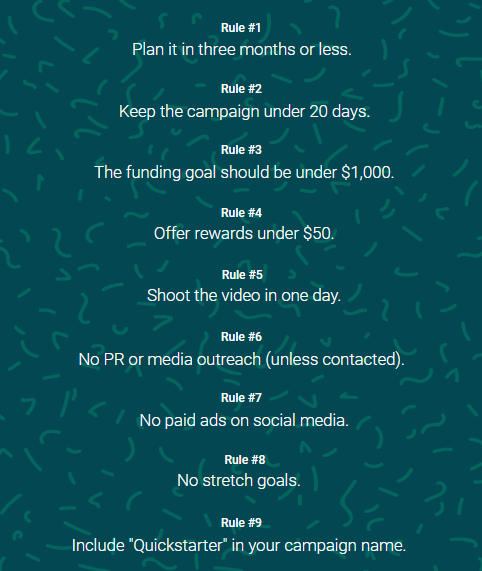 As you can see for yourself that this is going to be a good way for creators who may not have something huge to offer and spend money on all the professionalism that has engulfed Kickstarter. So be cool. Be creative. And be a Quickstarter.
It's OK to think small.
At last, concluding this article with cool Quickstarter projects.