Rating of Kickstarter Creator Chameleon Art Products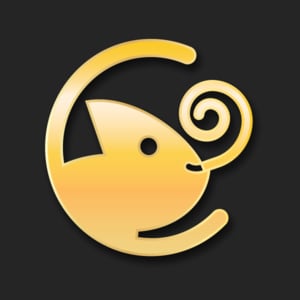 https://www.facebook.com/ChameleonArtProducts
https://twitter.com/ChameleonAP
https://www.instagram.com/chameleon_art_products

https://www.chameleonartproducts.com
-
-
-
-
Lives in: England
Joined Kickstarter: May 2015
Number of Projects Created: 4
Number of projects backed: 16
Most Backed Categories: Design (7), Publishing (2), Games (2)
Priding ourselves on innovation, Chameleon brings you patented products you won't find anywhere else. Chameleon aims to inspire, encourage and engage every artist, crafter and creative through innovations in color and we are committed to listening to, supporting, inspiring and educating all our customers, no matter their age or ability.
Creator Rating by
Overall
Excellent
Very Good
Fair
Bad
Poor
Timely Delivery
Product-Quality
Graphics & Design
Value for Money
Communication with Backers
Success Rate (4/4)
Check Before You Back
Kickstarter Creator Chameleon Art Products is a creative and innovative creator with four highly successful projects. The blending pens by the Chameleon Art Products allow the users to create beautiful designs and text and arms them with infinite blending capabilities. Not are the products by this Kickstarter Creator highly creative but they are of great quality and thus the creator has many happy backers.
Chameleon Art Products has been successful in finishing its' products on time and has been constantly and sincerely addressing the issues faced by various backers. There were a few problems with one of the pen during a campaign but Chameleon Art Products promptly solved the issue, was constantly in communication with the backers and handled everything in an ideal manner.
Top Positive Comments
There's a shower of positive comments for Chameleon Art Products by the backers. Due to the great quality products, excellent communication, proper handling of the backer's issues, Kickstarter Creator Chameleon Art Products is among the most successful creators on Kickstarter.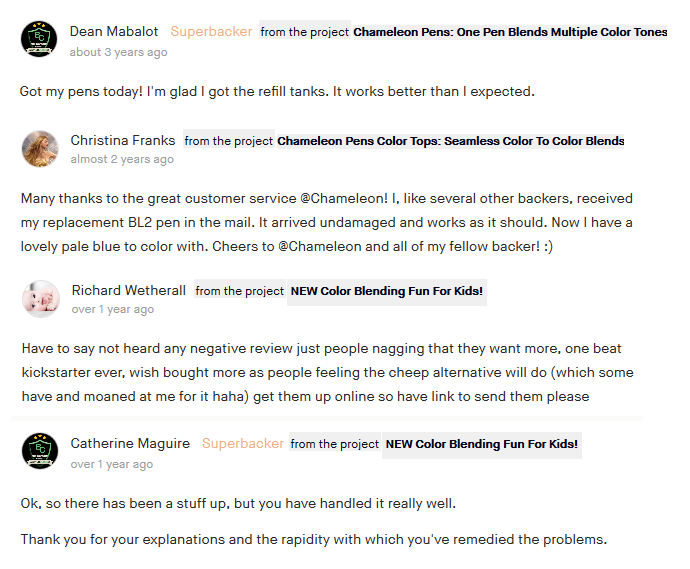 Top Negative Comments
There was some problem with a blue Color Tops pen and when the backers complained, it was immediately replaced by the creator. So, the backers were well satisfied and happy. However, in one project the backers were charged with extra custom charges, in some cases, even more than the cost of the pen itself. This is a very common issue and I don't blame the creator for that.