The list for the most creative projects on Kickstarter December 2018 is way too late and I am sorry for that. As a result, the campaigns have ended but I am sure you'll still enjoy these creative projects and will also be able to pre-order the products. So, check out the list for the most creative projects on Kickstarter December 2018 and start the new year that's already 29 days old with creativity and innovation and keep your spirits soaring high.
1. PrintBrush - A ninja for Printing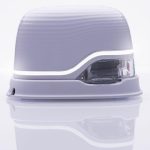 On watching the video of the PrintBrush, I felt just one thing, Whoa. I mean if the creator is able to deliver exactly as promised, PrintBrush will be a Wonder-Product and it will make printing so easy. PrintBrush is a wireless inkjet printer for smartphones. It prints in almost any surface. You just have to select the content that you want to print from the control app and select Print. All you have to do then is to sweep the device back and forth on the surface where you want to print.
You can select multiple prints, and the PrintBrush can be connected through Wi-Fi or USB and is extremely lightweight. This product has the ability to change the printing scenario drastically.
I am definitely going to get this one for me.
2. RocketBoard - Upgrade your ordinary Whiteboard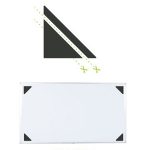 You'll be surprised at what four stickable beacons and an app can do to a whiteboard; Make it wicked smart. There are four re-stickable beacons that you've got to stick at the corner of your whiteboard and Bam! Your whiteboard will act as an  interactive surface. Scan the whiteboard with the app and it will capture the screen between the Rocketboard beacons from any angle and enhance it visually.
You can also share the files with cloud storage like Google Drive, Dropbox, Evernote etc. It is also possible to broadcast files and images in real time when working in a team of people at different locations.
Rocketboard will entirely change the way we see and use our whiteboard. And the best part is that you don't have to invest in anything new. It simply upgrades the existing whiteboard.
3. SolarCru - Charge from the Sun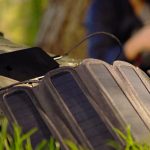 Those who like camping and adventures where a power source may not necessarily be available are going to love SolarCru. It is a foldable solar panel charger and it is also extremely lightweight and scalable. You can also charge the SolarCru using USB for extra backup. It has a 2000mAh battery and can charge almost any device. You can also connect up to 3 solar panels to get around 15W power to charge bigger devices.
The grommets at the corner allow it to be attached to the backpack or any surface so that SolarCru charges itself even on the go. Moreover, it also contains an intelligent chip to identify the device and control the power flow accordingly to prevent overcharging or overheating.
SolarCru is truly a perfect connection between nature and modern human needs and technology.
4. Solderdoodle - Tools that Matter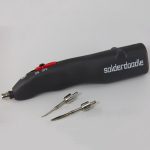 I've never used a soldering iron and never even have been near one. But watching Solderdoodle at work was all it took to make me want one. It is just a perfect tool. Plus, the various attachments that come with Solderdoodle will enhance your toolkit and make it powerful. A single tool can achieve so many tasks.
Various tips like blade tip, wood burning tip, needle tip, scooper tip, chisel tip etc. make working with plastic and other metals very easy and help you in giving perfect finishing to whatever it is that you are building.
Solderdoodle makes it possible to solder, punch holes in plastic, cut it and other such tasks, too easy and effortless.
5. AirThrone - Seriously Fun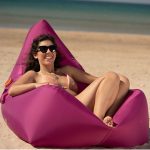 AirThrone is an auto-inflating air-lounger that makes it easy to have fun without having to pump your lungs out while inflating the air lounger. It takes under 90 seconds to inflate the entire AirThrone from your phone while using just 4% of your phone battery.
Apart from the ease, AirThrones are extremely strong, water repellant and lightweight. The only thing that you have to worry about with AirThrone is to find a gang and have fun.
https://www.kickstarter.com/projects/1359627150/airthrone-the-air-lounger-that-auto-inflates-by-ph
Now, enjoy yourself royally on the AirThrone without worrying about inflating it.
6. Folded Space - Give cozy space to your Board Games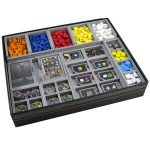 There are millions of board game lovers out there and Kickstarter has become a heaven for these people. So many games have been launched and succeeded on Kickstarter. But the best part is that Kickstarter is also home to many products that complement board games and make their handling and organization easy. Some products enhance the game playing experience while some protect the precious game.
Folded Space starter their journey on Kickstarter with inserts and organizers for storing and managing various components of board games. This is their third successful campaign and they have more inserts than ever and have many packs that are compatible with popular games. All the inserts are expandable and are made from Evacore, a special material. This material makes the parts lightweight and robust.
Folded Space rightly connects with those for whom their games are Gods.
7. Hurdle Hanger - The best ones are here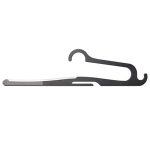 Does your room look like there was a zombie attack and they just threw your wardrobe all over the place? Worry not! You are not alone. Actually, there are so many of us out there that someone actually developed a product to help you with organizing your wardrobe.
We are not talking about big companies or fancy products, it's a simple hanger that comes in less than $2 and hangs your pants in just a second. Hurdle hanger is specially designed so that you can hang your pants on them in just a second. You can either insert your clothing or even fold it. The hanger is lightweight, sturdy, non-slip and just takes a second to hang a piece of clothing.
Hurdle Hangers are sure to overcome the hurdles that lay between a lazy bone and a clean room.
8. CableManager - Messy Cables Sorted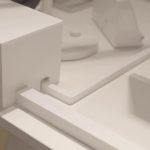 CableManager comes with the solution of handling the plethora of cables that we deal in our life with a solution that is as simple as joining Lego blocks. There are various modules like the extension, T Module, corner module etc. and a main cable manager box where you put your socket board. You don't have to drill any holes and you don't need the brains of a technician either. It's that simple.
The module comes in three sizes, Small (1-2 cables), Medium (3-5 cables), and Big (5-8 cables) and can hide any number of your wires in a sleek and elegant manner.
CableManager can surely untangle the life that is now, with all the devices and the wires that come with them.
9. Straprack - Workout at home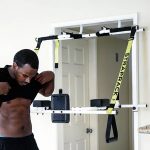 One look at the Straprack Home Fitness Gym and you'll find why the project is here. It is so simple, refined, and yet powerful. And what's more, it tackles all the problems that the existing home fitness products have. A totally different approach and a cool solution to those who love to workout but lack the discipline or maybe the time to go to a gym.
It fits on your doorframe and can support up to 250 lbs, thereby eliminating the need for any extra space. Chest Fly, Leg Raises, Lunges, Pull-ups, just name it and you'll find that it's possible with the Straprack. It's built with strong materials, has proper padding and thick grips to ensure a seamless workout with comfort.
It's also thinnest, lightest and most portable (weighs just 25 lbs) of all the VKRs available with the same features. Can you believe it!
10. Freshoe - Freshen up your shoes
Freshoe is a portable UV deodorizer which effectively kills fungus and bacteria in under a minute. It completely dries, deodorizes, and sterilizes a shoe in 15 minutes. Freshoe quickly reaches 55℃ and maintains it due to which it easily dries the shoe without harming human skin. Freshoe uses a turbine and a fan to deodorize the shoe, thus there is no harm of chemical side effects. It also ionizes the air inside the shoe that increase the blood circulation in feet.
But the application of Freshoe is not limited to your shoes only. You can also use it to kill germs and bacteria on your foot and hand-nails too.
The great part is that it is USB rechargeable with 5200 mAh battery that can clean 6 shoes in one charge.
Give your shoes a treat by treating them with Freshoe. Your feet will love it.
11. Darter - Sew as you go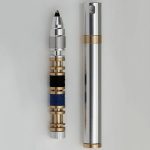 I'll first quote the best and most catchy line of the entire campaign page.
Why did we put a sewing kit in a pen? Our answer is: because we can.
While this may not be a conventionally creative project but it is technically creative. Having a handy sewing kit in the pocket is good and even useful at times but what about those who can't handle a needle! Well, fun apart, there are many situations where we really wish that we could somehow sew back the button or the hem but don't have the tools. This is by far the most effective, space-saving and straightforward solution to those unwanted situations where our clothes or our handbag decide to do everything to embarrass us in public.
Darter may not be for all but it is a good tool for those who can sew, though little and can save themselves from some awkward situations.
So, this is the compiled list of top 11 most creative projects on Kickstarter December 2018. I'll be back really soon with January's list and this time it's gotta be on time. Do let me know in the comments what do you think about these products. Also don't let your creativity and imagination suffer in our world surrounded by practicality, no-nonsense and follow-the-rules attitude. Break some rules, let your mind wander, and keep checking out other similar lists here.