Rating of Kickstarter Creator QingYing E&T LLC
Lives in: Shanghai
Joined Kickstarter: August 2016
Number of Projects Created: 6
Number of projects backed: 0
Most Backed Categories: -
We are a group of microscopy enthusiasts and experts who aim to provide new microscope tools for you to enjoy microscopic photography and explore the micro-world.
Creator Rating by
Overall
Excellent
Very Good
Fair
Bad
Poor
Timely Delivery
Product-Quality
Graphics & Design
Value for Money
Communication with Backers
Success Rate (5/6)
Check Before You Back
Kickstarter Creator QingYing E&T LLC specializes in creating unique and highly useful microscopic devices. The projects by the creator vary from a tiny microscope to a micro-ruler and a micro adapter. Also, all these products are created in such a manner that they can be attached to any smartphone and used seamlessly.
QingYing's communication with the backers is wonderful. The creator has tried to reply to as many comments as possible and thus has a lot of happy backers. There was certain confusion regarding the permission for the app that accompanies the products. However, the creator tackles this by explaining everything properly and patiently to all the backers having issues with the app.
Positive Comments
Backers are happy with the products that they have received. The products were delivered on time and as promised. And hence the creator has many happy backers. Many people have the issue of the app crashing. However, this was simply due to the permission requirements for the app and nothing that cannot be sorted out.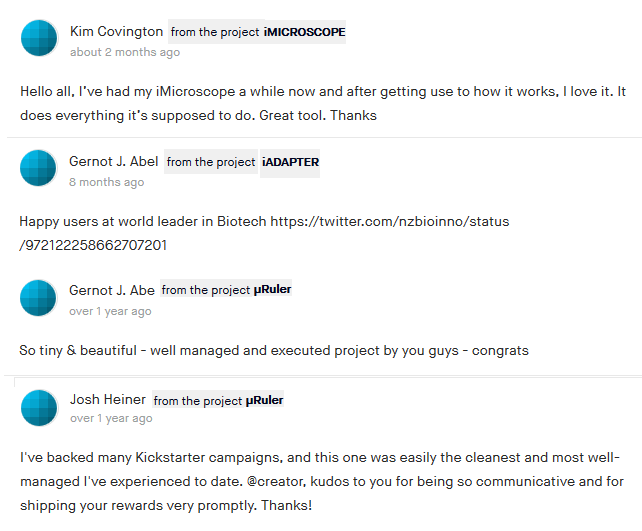 Negative Comments
There are very few negative comments for the creator. However, according to some people, the design focus is more on iPhones than the Android phones. Moreover, the usage and calibration were a bit tough and unclear for some people.