The list of top 11 most creative projects on Kickstarter October 2018 is out. So, don't miss out on the latest cool and trending projects on Kickstarter. These products may be big or small, already funded or nowhere near their funding goal and will always have 5 to 30 days before the campaign ends. We want you, readers, to be able to back something from the list if you like it. So, let's see the top 11 most creative projects on Kickstarter October 2018. 
1. MessyWeekend Goggles - Go crazy this weekend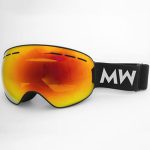 Winter is Coming!
No, I am not reciting the Game of Thrones' punchline but winters are actually at the doorstep and with it comes the skiing and snowboarding season with people going crazy during the weekends. But do you need a new pair of skiing goggles yet again? Oh man! now that costs a lot. Well, not anymore.
Messy Weekend comes with cool goggles that don't burn a hole in your pocket and are hell stylish. Moreover, they are solar protective, fog-resistant, anti-slip grip, and with easily changeable lenses.
Just grab a pair of the MessyWeekend Goggles and get going.
2. Universal Lens Cap 2.0 - Fits every Camera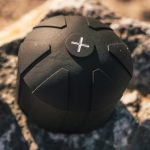 Creator KUVRD is back with the second version of their already successful Universal Lens Cap. The idea is simple. We all tend to lose the lens cap. Moreover, it is hectic to buy a lens cap for each and every set that you have. What if a single cap fits all your lenses and even camera. Moreover, this cap is also water resistant, dust and dirt proof and firmly holds to your lenses.
The second version is stretchier, has a curved surface for extra protection, and is stronger. The two sizes, Magnum and Micro make sure that the cap fits your lens securely and snugly.
Now, go on any adventure you can dream of. Get wet or dirty or lazy, the Universal Lens cap has got your camera lens covered.
3. SISSI Strawberry - We Grow our own Strawberries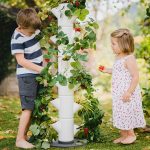 SISSI Strawberry is a ready-to-plant strawberry planter. It is stackable and stylish. And what's more! It allows you to grow your favorite strawberries right in your garden terrace or even inside your home.
The stackable compartments are modular and hence you can stack as many or as few compartments as you want. And then all you have to do is to add soil and fertilizer and add the seedling to each compartment. It also has perfect water distribution and thus all your plants will grow evenly.
But don't forget to water the plants. Those babies ain't gonna water themselves.
4. MAYU - a healthy Whirlpool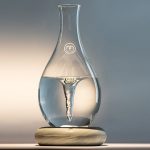 When it comes to water, motion or flowing water is directly related to quality, hygiene and safe for drinking. Flowing water represents purity and hence we often don't mind drinking such water directly or after some basic filtration.
Mayu Water brings the same concept to the water that we drink at home. It gives a constant swirling motion so that the water is removed of its impurities and gets aerated and is highly suitable for drinking.
In their own words,
When water sits still, many dissolved contaminants remain trapped, while aerating it with a flowing motion releases contaminants and keeps it oxygenated, fresh, and clear.
Don't just get mesmerized by the beautiful swirling of water by Mayu, drink the water too.
5. UGEARS Games - Classy holders for your tabletop games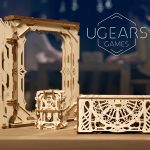 Now, this one is my personal favorite. Not that I own many tabletop games, but I just loved this product the minute I started the video. It looks so cool, classy and vintage. There are four different mechanical devices that will accommodate any part of your beloved game, the Card Holder, the Dice Tower, the Game Master's screen, and the Deck Holder.
One look at these devices and you'll want one for sure. And if you are like me, you may need to buy a few games to put these devices to use too.
Sometimes you just love a product, whether you need it or not. And UGEARS Games comes in that category.
6. Meadow - Connect the things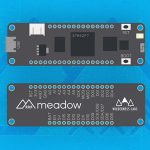 IoT is the next big technology and all the nerds out there have already started building apps and devices that make use of this concept. Meadow is the world's first, modern, secure, professional IoT platform.
So, all those coders out there who are tired of trying to make the hardware and software behave according to your will, Meadow is a granted wish. It is a Plug and Play type platform that makes creating IoT apps as easy as it can get.
Meadow consists of a driver and an API library. You just have to plug the components that you want to use and start writing applications.
Meadow is going to be the breeding ground for many Internet-of-Things apps and devices.
7. Fingertip Microscope - Zooming to a new level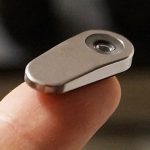 Fingertip Microscope is so tiny that it literally fits on your fingertip. Now, this is a really wonderful product. The zooming and clarity of the microscope are comparable to any good quality desktop microscope.
To use this microscope, you just have to attach it your phone's camera and your phone will become a cool zooming device. It can give up to 800x magnification and has very less distortion. It is accessible with any Android smartphone or iPhone.
8. Footloose - Litter handling never so Easy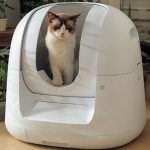 Ah! another pet product. Footloose is any cat owner's dream. There are many litter handling products out there but Footloose aces them all. It is the ultimate solution to handling and cleaning the cat's litter.
Footloose addresses all the issues in the existing litter boxes. The design is cat-centric and it also monitors cat health. All the waste is accumulated in a tightly sealed receptacle and all you need to do is replace the waste bag once in a while (you also get notified about the waste level). It can also recognize multiple cats using it.
Footloose has defined a very simple cleaning process which is radically different from the peer devices. Footloose is a great example of simplicity at its best.
9. A compendium of Witches - Oooh Spooky!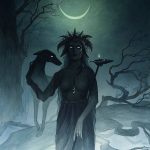 Natasa Ilincic is the creator, writer, and illustrator of the book, A Compendium of Withes. Her area of interest and study is the Balkan tattooing. She came in contact with older females having traditional tattoos, ones that don't just decorate the body but has a deeper meaning and a story associated with it.
The book contains the portraits and stories of 29 witches from around the globe. It is going to be an interesting read about the traditions and secrets and dark rituals that people follow and believe even today.
The lifelike illustrations and sketches by Natasa give the book an enchanted edge. Anyone interested in mysteries and folk legends will love the book.
10. Cocoon - Bringing safety and nourishment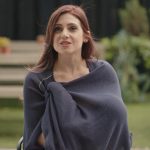 Breastfeeding is an important aspect of motherhood. And due to conventional thinking, it's also the most difficult one. Feeding in public or office can be stressful and difficult for mothers and hence ultimately for babies too. Also, the wraps and covers already available are either hideous or plainly lack functionality. Cocoon, on the other hand, is as much functional and versatile as it is stylish.
You won't be embarrassed to wear your cocoon in public or even to a party. It can be worn as a scarf, wrap, cape, stroller cover, pump cover, and baby blanket. It is soft and breathable, making it acceptable to the baby too.
Cocoon symbolizes the cocoons that we see in nature. They nourish, provide security and warmth and take care of the little one until they are strong enough.
11. MasterSous - Master your Culinary Skills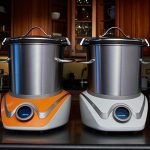 Are you a skilled chef whose cooking simply kills the appetite of those around you. Then, worry not, MasterSous has come to your rescue. Cooking is a complicated blend of art and science and there are many who try and try and end up with an upset stomach. This brings us to MasterSous, an 8-in-1 cooker that allows you to impress everyone with your cooking.
You can sous vide (frankly speaking, I don't even know what that means), deep fry, saute, boil, simmer, sear, steam and slow cook with your MasterSous. I am sure the above line itself shows you the true power and utility of MasterSous. But that's not it. It has sensors so your food never gets burned. It is Wi-Fi connected and also has a mobile app to give you control over what is being cooked without being physically present. You can enjoy with your guests while your MasterSous prepares the delicacies for you.
MasterSous is a great solution to those who love to cook but somehow manage to fail in a new way every time they try it.
So, that's the end of yet another interesting and cool list. I really enjoy doing these lists. It brings you in contact with some of the most creative brains from around the world. Some of the products are truly clever while some are so obvious that makes us wonder, why didn't someone think of this earlier? Do let me know in the comments what do you think about these products. I'll be back with the list of most creative projects on Kickstarter November 2018 next month. Till then, check out other similar lists here.