Today The Funding Cafe presents the list of top 11 most creative projects on Kickstarter November 2018. Do check out these amazing projects as they will inspire you and you may come across something you were looking for. These products may be big or small, already funded or nowhere near their funding goal and will always have 5 to 30 days before the campaign ends. We want you, readers, to be able to back something from the list if you like it. There's an exception in today's article. The campaign of Rollbe Click ends today but it's so creative and innovative that I couldn't omit it in this list. So, let's see the top 11 most creative projects on Kickstarter November 2018. 
1. Pylife and PyGo - Never get disconnected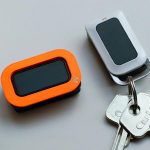 PyGo is a small device that can be attached to anything, humans, pets and even things. It is possible to always stay connected using PyGo. It connects with other PyGos through 5 different types of networks and hence ensures that you're never out of touch. You can also send and receive messages or security alert, even without a phone.
It's easily chargeable, is waterproof and connects infinitely even when no cellular network is present.
https://www.kickstarter.com/projects/pycom/pylife-and-pygo-the-most-connected-device-in-the-w
PyGo has made it possible to stay connected in real life just like Facebook connects people in virtual life.
2. Adventur 3.0 - Full fledged toolbox in your wallet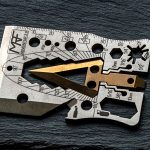 This project is something that any adventurer will thank the creator for. Three major points worth noting about Adventur 3.0 are it's strength (due to the material used), it's size (the size of a credit card), it's super utility (so many). Just having Adventur 3.0 in your pocket will arm you to fight any kind of disaster that you may face while outside. It's an opener, wrench, cutter, ax, tomahawk, scraper, sundial and so much more.
You've got to check it out to see all that it can do.
https://www.kickstarter.com/projects/mrfmultitools/adventur-30-ultimate-survival-edc-credit-card-mult
Having Adventur 3.0 with you is like moving with an entire full-fledged toolbox in your pocket.
3. Pivo - Photography Beyond Infinity
Those who love clicking photos and videos from their smartphone are going to go crazy when they get to know Pivo. This tiny tripod will give you seamless control and freedom to explore your creativity when you're capturing moments with your smartphone. It's simply Plug-and-Play with 12+ shooting modes and works with all smartphones.
Various modes like ManyMe, Vs, TimeLapse and many more make it possible to create the video or click pictures that will put you in the army of the 'creators of great photos and videos.'
https://www.kickstarter.com/projects/7562310/pivo-get-insanely-creative-gifs-photos-and-videos
Pivo is a great example of what a tiny pod with an innovative mind behind it can do.
4. Legion Solar 3 - Capture the Energy of the Sun
Legion Solar is among one of the smartest projects on Kickstarter. We all like to go Green and try to cut back some of our usage of the precious resources. But most of us don't have the time or means or skills to use renewable energy in our day to day life. Solar energy is by far the easiest to harness and use in daily life ( but is mostly limited to solar cookers).
Legion solves all these issues. It is affordable, extremely easy to install and gets installed in minutes. Moreover, you don't even need any special permissions to use it. It is also easily scalable, in short perfect in every manner.
This is what I call a Power-Packed Solution. Well, not just power-packed, solar power-packed solution.
5. The Titan Sock - Do not Clash with them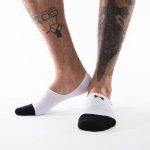 What can you do with a pair of socks to get people talking? We need to learn that from Commons Designs Group to see that. I came across this project while exploring the trending campaigns and I was like, OK let's see what they've got. But, the video was just mind-blowing. The project instantly went into this month's list.
I'll just list out the main features here. Titan Socks are
 Invisible
Strong, really strong (comes with a lifetime guarantee)
Anti-microbial, so no smell or infection
They fit perfectly and do not slip off, thanks to the Silicone heel webbing.
What more do you want? I mean they are just a pair of socks. Extraordinarily amazing Socks!
6. Cleansebot - Germs, the bots are here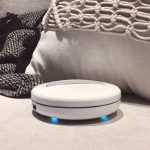 Do you know what we unconsciously like about our home? Coming to clean sheets and bed at the end of a tiring day. And those who frequently travel know that clean sheets are a luxury when you can't afford luxury hotels. There are many instances of people getting sick due to unhygienic hotel rooms.
Now, a tiny robot is going to change that. You just need to set the robot on your bed and it will keep on working and cleaning your bed sheet and duvet while you carry on with your day. It can also be used to disinfect most germ-harvesting surfaces like the light switch, remote etc.
This tiny robot makes sure that you get clean sheets anywhere just like your home.
7. PIXL - Build your imagination with magnets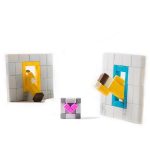 PIXL is a building system with magnetic blocks that connect with each other to build anything that you can think of. The blocks can be used to make 2D or 3D structures. The blocks come in 4 sizes and 52 different colors that will bring to life anything imaginable.
And if you're afraid that you won't be able to think of something to build with the blocks, PIXL Companion is just what you need. It contains the designs that people have shared. You can get inspired from them and can also share your designs.
Let's build our empire!
8. Rollbe Click - Measurements just a roll away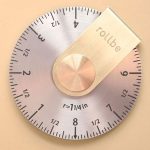 Rollbe Click is a great example of what one achieve by simply thinking a little bit out of the box. When it comes to measuring something, all we can think of is a ruler or a measuring tape or specific instruments for various shapes. But what if a single tool is able to measure absolutely everything. No matter what the shape, or the material is, this single tool accurately measures anything. And what's more, it just fits in your palm.
Yes, the creator of Rollbe Click simply twisted the way that we measure things. You simply have to roll it on the surface and once the Rollbe completes one rotation, it clicks. All you have to do is keep the count of the clicks and do some calculation. That's it. Now, you are armed to measure anything.
Rollbe Click is as simple as it is genius.
9. Dicees - The game is on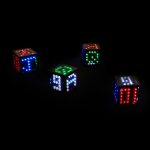 Dices are by far the oldest and the most loved equipment by the gamers all over the world. And Kickstarter has been a home to some of the most wonderful and creative dices. Only Kickstarter Creators can think of making 3/4″ dices into an amazing product.
But Dicees is an entirely new form of dice. It combines technology into the dice and makes it really cool. All the faces of the dices are screens. And each screen contains colored LED digital displays. You can set your own pattern on each screen. You can also play remotely, with Dicees keeping the score and even notifying you if someone tries to cheat.
Watching Dicees in live action is like watching a science fiction come to life, albeit an ancient one.
10. Qdee - Making Robotics a Kid's Play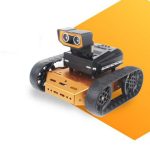 Qdee is a robotic kit that is designed specifically so that children can grasp and understand the concepts of robotics from the early age of 8. It is micro:bit powered and hence make robot making easy and fun. Micro:bit is a small programmable computer that is easy to use and program.
Qdee can be used to make any shape or configuration that your child/ you can imagine. It is also Lego compatible that gives you infinite possibilities of creation. You can use Qdee as it is or as IoT to connect other things.
Now make a destructive unicorn or racing robots, it's just a Qdee away.
11. CHICSO - It's Finger Powered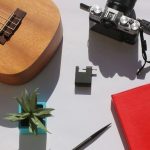 CHICSO is a simple, affordable and unforgettable lock for everyday use. You don't need to worry about where you kept your key more than what you are going to gift your girlfriend this Christmas. You don't need to remember yet another password and perhaps forget it and get yourself locked out. With CHICSO, all you need is to keep your hands with you. And I guess that's not too difficult to achieve.
CHICSO is a portable fingerprint lock that just requires correct fingerprints to unlock. You can add as many as 40 fingerprints to it. It also comes with a retractable cable. Thus, it is suitable to put the lock on almost anything, bag, bike, furniture, or yourself.
CHICSO gives a truly independent and worry-free solution to our security needs.
So, this is the compiled list of top 11 most creative projects on Kickstarter November 2018. This month, I came across many interesting projects. But since we just list 11 projects here, I had to sadly leave some quite innovative projects. I'll try to cover them up later. It's never worthless to know a good Kickstarter Project. Do let me know in the comments what do you think about these products. I'll be back with the list of most creative projects on Kickstarter December 2018 next month. Till then, check out other similar lists here.